Mungkin pembaca sudah mulai bosan dengan konten kami yang isinya wawancara terus (4 kali berturu-turut), tapi tenang artikel berikutnya kita jamin ga ada hubungannya dengan wawancara. Wawancara kali ini bisa jadi merupakan sesi terakhir untuk saat ini tentang produsen2 jeans lokal. Target wawancara kita kali ini juga salah satu emerging brand di dunia denim dan jeans di Indonesia yaitu Pot Meets Pop.  Satu hal yang paling menarik dari Pot Meets Pop (PMP) adalah produk2 jeansnya yang tidak hanya mengayomi para pria tapi juga serius dalam membangun produk untuk kalangan kaum hawa. Sudah cukup bosan kita dengan foto-foto lookbook yang isinya pria, sudah saatnya kaum hawa diberikan produk yang berkualitas juga. Hal menarik lainnya adalah nama dan sepertinya inspirasi yang sangat kental dengan kultur marijuana. Mari kita simak wawancara dengan para personil PMP di bawah ini
Bisa diperkenalkan siapa saja dibalik brand anda?
Otak di balik Pot Meets Pop Denim adalah Hendry Sasmitapura, Mahatirta A dan Mursi Mursalat. Kita ber 3 di sini adalah pecinta2 denim yg masih mencari tau apa arti denim itu sebenarnya, di sini kita dibantu bgt oleh Mr. Chandra Sasmitapura, seseorang yg paham betul akan denim itu sendiri, yg mana beliau sudah berpengalaman di insdurtry ini sejak tahun 1984.
Apa yg pertama kali membuat anda tertarik pada jeans dan denim pada umumnya?
Denim menurut kita adalah sesuatu yg sangat unik dilihat dari segi culture dan material nya itu sendiri.
Apa alasan anda membuat jeans sendiri?
Kita pengen ngangkat local denim movement yg skrg lg hype di indo, dengan kita ikut turun lgsg, otomatis kompetisi di industry ini bakal lebih kompetitif dan pada akhirnya kita semua bakal mengangkat standard fashion industry di Indonesia
Apa jeans pertama anda?
Hen: Levi's 501
Maha: Lee Original
Mursi: Wrangler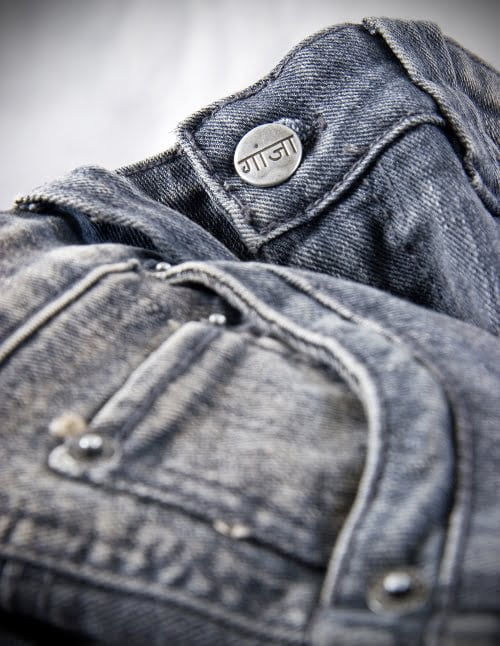 Apa jeans favorit anda dan mengapa?
Ya tentu aja PMP donk, karena kita bertiga adalah brand ambasador jg dari PMP sendiri..
Kira-kira apa yg membuat jeans anda stand out dibandingkan jeans lain?
Kita focus dengan kenyamanan waktu orang2 pake jeans kita, ga cuma cutting, tp material jg harus dipikirkan matang2. One more thing, pmp sangat respect and support akan art in general, not only music, di sini orang2 bakal liat dari kolaborasi2 kita. Kita tidak hanya mengangkat music tp kepada art yg jauh lebih luas dari itu salah satu nya art dari Mr. Rudolph Herdiman.
Darimanakah bahan produk jeans anda?

INDONESIA!!
Siapa target pasar anda? dan bagaimana cara anda merealisasikannya
Whatever background of your life, whatever your personalities, and whatever your taste, Pot Meets Pop can be your best buddy. Cara kita merealisasikan nya adalah dengan menampilkan classic cutting and timeless design di setiap artikel pmp.
Apa sajakah tantangan paling berat dalam bikin jeans sendiri?
Karena kita masih belajar, so detailing pas bikin sample untuk tiap artikel adalah hal yg paling menantang buat kita. Salah satu details dari pmp adalah warna dan ketebalan dari benang kita yg berbeda dengan brand lain. Kalian bisa lihat thread kita yg berbeda di artikel baru kita: superthaistick x electrofux dan thastick #2.
Sudah berapa lamakah anda berkecimpung dalam dunia per-jeans-an?
Kurang dari 1 taun kok.
Darimanakah anda mendapatkan inspirasi untuk jeans anda? Ada brand jeans yang secara langsung mempengaruhi anda?
Inspirasi sih dari pot meets pop culture itu sendiri, hehe, untuk brand lain, kita ga memungkiri, tapi emang Nudie and Cheap Monday menjadi salah satu inspirasi terbesar buat kita.
Apakah anda penganut "cuci sesering mungkin" atau "tunggu 6 bulan sebelum cuci"
Lebih lama ga dicuci lebih bagus donk!!
Bagaimana pendapat anda mengenai fenomena jeans jepang dan bahan selvage akhir-akhir ini
Pendapat kita, fenomena ini sangat memberikan inspirasi dan motivasi buat kita karena jeans jepang bisa menampilkan detailing yg sesungguhnya, mereka dapat memberikan product knowledge yg tepat kpd customer nya, bukan hanya branding semata.
Ada cerita khusus mengenai nama brand anda yang berbau-bau marijuana?
Hahaha.. ya pada intinya kita pengen pake nama pot meets pop karena culture ini sempat benar2 mainstream pada taun 70an, everyone smoke pot at that time and we want everyone wears our pot meets pop denim at this time.
Dari beberapa produsen jeans lokal yang sedang naik daun saat ini, tampaknya anda sangat serius dengan produk untuk kaum hawa. Bisakah diceritakan sedikit mengenai cerita di balik pembuatan jeans bagi cewe ini? (proses, inspirasi, modelnya lucu2 hahahha)
Karena sejak awal, kita ngeliat ga ada brand local yg bikin product cw, sedangkan kita meng analyze bahwa cewe adalah target market yg sangat konsumtif. Proses ampir sama2 aja, inspirasi dari temen2 kita yg cewe, banyak jg masukan dari mereka dan kalo model sihh.. hahahaha.. (wah ga menjawab nih pertanyaan yang model hahahhaha -red)
Ada gosip bahwa sebenernya PMP merupakan pecahan dari salah satu produsen jeans lokal juga? Ada cerita mengenai hal ini?
Hahaha, infotainment bgt. Ada gossip apa lagi emang?? Kita emang familia kok dengan brand2 lain nya dan kita saling support aja. Emang gossip nya pecahan dari brand apa sih?? Hehe..
Ada rencana untuk membuat produk denim lain selain jeans sebagai satu bagian dari koleksi PMP?
Jeans aja kita masih kewalahan, ntar deh kalo udah punya pegawai.
Cuff or stack?
Hen: cuff buat sambil maen fixie. hehe
Maha: stack biar ancur kena griptape.
Mursi: cuff aja.
Denim terjelek yg pernah anda tau?
Hahahaha, denim kita jg masih ada yg bilang jelek kok,  jelek itu relatif lah, kita ga berani ngejudge apa2.
Apa yang kira-kira terjadi jika jeans anda tidak diciptakan
Hen: lg s2 kali ya.
Maha: chill at my polyphonic room
Mursi: nothing
Siapa orang yang pengen banget anda liyat memakai jeans anda
Hen: BobbyHundreds !!!
Maha: Johnny Layton !!
Mursi: Arkiv Instant !!
Mending liyat Megan Fox telanjang atau pake denim anda
Pake denim kita donk! Ga telanjang jg udah cukup kok..
Pesan-pesan bagi para denim enthusiast
Respect and support your local denim movement!!!