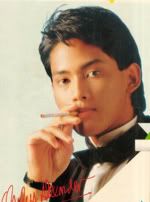 - Sat Nov 07, 2009 5:29 pm
#34483
izinkan gw membuat thread tentang berita2 terbaru ato lama tapi masih hot
.. kayanya blom ada soalnya hehe
post ur information that you know about denim in here..
FIRST OF ALL,
contributed by RETROFLUX
:
retroflux wrote:guys, mau share info aja, jaman skrg vermak levi's udah basi. skrg jamannya
JEAN'S Jakarta Jeans House.
melayani cheap monday, 3sixteen, Lee, Evisu, Nudie Jeans, Ksubi, Imperial, Levi's, dll.
(gaul ni yang punya kyny)

located at cipete, satu jalan ama abuba steak, tp lebih dket dbest, seberang nya atm mandiri.
pas gue lewat tadi , tmn gue ngasih tau "yo, di daerah sini ada tukang vermak gaul deh..hmm, ah ini dia!"



tp udah tutup tadi , jadi gue gak tau dalemnya kaya apaan, gak tau juga bisa chainstitch apa nggak, kayanya sih palingan ga bisa, tp gak tau juga, coba dong yg tinggal dket situ cek bisa chainstitch gak?
hahahaa


Contributed by ALAMANDA
alamanda wrote:OOT dikit ga tau mo ditaro dimana

http://www.denimology.co.uk/2007/10/the ... d_suit.php

"Now here is something for the real denimistas out there. When Kiya Babzani (who is the owner of specialist denim store SelfEdge in San Francisco) got married recently he wore a denim suit made of Flat Head's 3XXX denim. The material was brought over to San Francisco from Japan and given to a local tailor who turned it into a slimmed down version of 1940s style suit. The end result is a totally unique wedding outfit that is cooler than a polar bear's nuts in winter. "



hayo siapa yg mo ikutin kiya klo kawin pake FH hehehehe
Last edited by
jars
on Sat Nov 07, 2009 5:46 pm, edited 1 time in total.