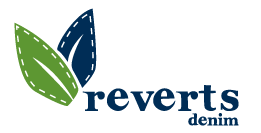 -------------
Cotton is considered the world's 'dirtiest' crop due to its heavy use of insecticides - the most hazardous pesticide to human, environment, and animal health.

So we use organic and natural materials, with eco-friendly process in producing this jeans.
-------------
reverts
tries to promote organic jeans as a new style, which is called green lifestyle.
Their vision is to encourage the idea of achieving a better environment through the simplest thing like the daily clothing. And the mission is to make a new trend in fashion with something organic and eco-friendly.
reverts denim
's main character is organic cotton, with every part of the jeans are organic or eco-friendly.
Why is it called organic?
Because the production process does not involve pesticide or other toxic, which can contaminates the environment. Based on fact, over 90% of cotton production involves the use of synthetic chemicals including pesticides and insecticides. Can you imagine how contaminated is our environment?
This is reverts way to prove its concern about the effects of global warming. reverts believes that every little thing we do can help us make a better environment - that's our philosophy!