By
bluesville
- Sun Mar 27, 2011 9:38 pm
- Sun Mar 27, 2011 9:38 pm
#314537
Hi Easy Boys,
Kita mau memperkenalkan Bluesville sebagai brand spesialis natural dyed goods.
Kenapa natural dye?
Kita sadar bahwa bumi kita sudah menyediakan banyak banget bahan-bahan pewarna alami yang bisa membuat palet warna yang menarik. Bahan-bahan pewarna alami kita ambil dari segala penjuru Indonesia dan dari halaman belakang workshop Bluesville.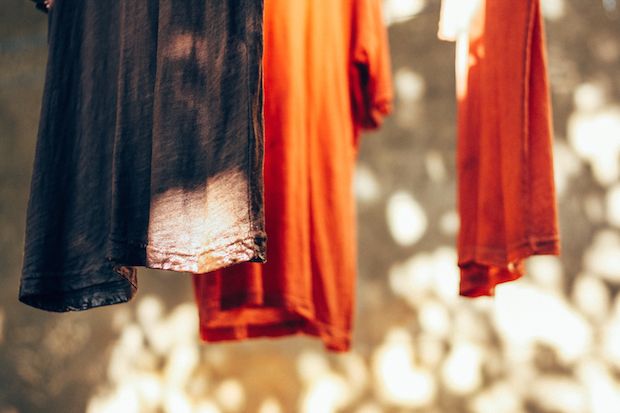 Natural Indigo

Tentunya sebagai pecinta jeans, kita pasti sadar indigo adalah pewarna utama pada jeans dan natural indigo sampai saat ini masih digunakan sebagai bahan pewarna jeans. Kami tertarik sekali pada natural indigo karena sifat magis yang dibawanya. Perasaan kita pada saat pertama kali mencelup sebuah kain ke indigo sangatlah mengesankan. Selain itu natural indigo juga menarik karena masih menggunakan cara-cara tradisional untuk mengolahnya. Kami menggunakan berbagai macam indigo dari berbagai macam sumber seperti dari Flores, Jawa Timur dan juga Toba.
Semua produk natural indigo dari Bluesville dikerjakan sendiri oleh kami di workshop yang kita bangun sendiri, begitu juga dengan batik tulisnya.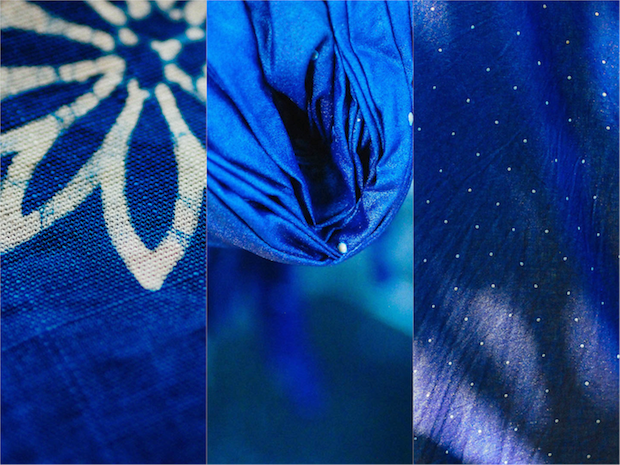 Produk dari Bluesville
Bluesville sampai saat ini mengedepankan casualwear dengan pewarna alami yang bisa dipakai semua orang dan mudah dipadukan dengan berbagai style. Bluesville selalu memadukan tiga value yang kita usung dari awal yaitu
Natural Dye, Traditional Handwoven dan Handwritten Batik
ke dalam produk-produk yang modern dan relevan untuk kehidupan sehari-hari di jaman sekarang.
Selain pewarna utama indigo, kami juga berkutat dengan pewarna lain seperti dari manggis, keluarga terminalia, kayu-kayuan, clitoria ternatea, dan lain sebagainya untuk mendapatkan warna yang kami inginkan. Untuk menciptakan produk-produk ini, kami sebisa mungkin mengejar bahan-bahan berkualitas dari dalam negeri, khususnya untuk pewarna dan sumber daya manusia.
Perawatan garmen yang dicelup pake bahan natural:
1. Machine wash cold. Untuk menjaga warna agar tidak terlalu pudar karena pada dasarnya air yang terlalu panas bisa merusak bahan dan warna
2. Hand wash cold. Selain dicuci mesin, garmen juga bisa dicuci manual dengan tangan, tentunya tetap dengan air dingin.
3. Use no bleach soap. Seperti hal indigo pada jeans, indigo dan warna-warna lainnya sangat rentan terhadap bleach atau pemutih. Hindarkan pemakaian pemutih dan deterjen yang mengandung bleach/pemutih.
4. Low heat iron, use lining to cover. Ketika menyetrika garmen, sebaiknya menggunakan panas yang rendah, karena panas yang berlebihan bisa menyebabkan warna pudar dan merusak bahan,
5. Avoid excessive direct contact with oil, perfume, and other chemical material. Beberapa unsur kimiawi tersebut dapat merusak warna jika garmen terkena bahan2 kimiawi tersebut dalam jumlah yang berlebihan (misalnya kena tumpahan satu mangkok minyak). Jauhkan baju anda dari bahan2 kimiawi yang bisa merusak warna. Beberapa parfum juga diketahui dapat bereaksi dengan pewarna alam, jadi hindarkan kontak dengan parfum dalam jumlah berlebihan.
Last edited by
bluesville
on Tue Nov 01, 2011 7:14 pm, edited 2 times in total.