By
krayon_warna-warni
- Mon Oct 26, 2009 2:57 pm
- Mon Oct 26, 2009 2:57 pm
#30773
INDIGO
present...
WA
LL
OF
FA
DES
Seperti yang kita ketahui bersama,
INDIGO
sebagai organisasi Denim pertama yang berdiri di Indonesia, akan mengadakan the first denim exhibiton in Indonesia, yaitu
WA
LL
OF
FA
DES
yang akan diadakan pada tanggal 5-6 Desember 2009, di Studiology Kemang (belakang brew, seberang KFC kemang)
pada pameran tidak hanya memamerkan jeans-jeans saja, namun kita juga dapat melihat sejarah suatu jeans sampai jeans yang kita kenal saat ini, pembuatan jeans, seluk beluk jeans, dari mulai local brand sampai international brand... dan tidak lupa evolusi sebuah jeans dari yang brand new hingga worn-out.
Dalam penyelenggaraannya tentu saja tidak bisa lepas kaitannya dengan dana,
untuk itu kami dari INDIGO mengajak denim heads semua untuk ikut berpartisipasi demi terselenggaranya exihibtion ini..
bantuan dapat berupa dana yang akan digunakan untuk pelaksanaan Wall of Fades,,
bantuan dapat diberikan melalui
Bank BCA
A/N:
Achmad Irfan Fadly
No acc:
2671512768

harap konfirmasi setelah mentransfer ke nomor
0817775418
PAYPAL
email to:
irondenim@yahoo.com
dengan menyebutkan nama, atau ID di darahkubiru.com dan jumlah bantuan yang diberikan
Bantuan anda, akan sangat berarti bagi suksesnya Exhibiton ini
Sekian dan terima kasih.....
For every Rp.100rb donation will get a chance to win

1.APC new cure size 32 present by mr.yogo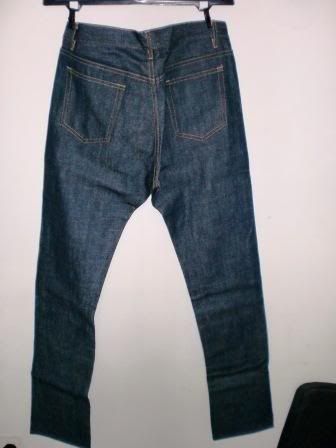 2.Nudie shirt sz. M by Mr.Putra Perkasa

3.nudie svenska limited edition sewing kit by Mr.Putra Perkasa

4.nudie lab3 bag by Mr.Putra Perkasa

this is what im talking about..
and for every donation less than rp.100rb will get a chance to win:

1.fabric deodorize bought in japan made in korea

2.fabric starch bought in japan made in korea

both bought in denim store in shibuya japan
Partisipan...
1. Mr. Gusti Nareswara KM
2. Mr. Gilang Aditya Utom
3. Mr. Ilham Syafrialdi
4. Mr. Raditya Sayogo
5. Mr. Fitro Senna
6. Mr. Mahendra Aditirta (VIA PAYPAL)
7. Mr. Gilang Mursito Aji
8. Mr. Muhammad Nuki
9. Mr. Raymon Munkeesaurus
10. Myself
11. Mr.Freedyrambo
12. Mr. Satya
13. Mr. Caesario Ibrahim
14. Mr. Ossi S
thanks


Selamat bagi para partisipan yang beruntung:

1. APC new Cure: Mr.Fitro Senna
2. Nudie Shirt: Mr.Caesario Ibrahim
3. Tas Nudie lab: Mr.Raymon Munkeesaurus
4. Nudie repair kit: Mr. Freddy
5. Fabric Refreshner (perfumed): Gusti Nareswara
6. Fabric Refreshner (plain): Gilang Aditya
7. Fabric Starch: Mr.Andan Patria


Selamat buat para pemenang


terima kasih atas partisipasinya turut menyukseskan Wall of Fades....
pengundian dilakukan pada pukul 04.30 pm tanggal 13 Desember 2009, bertempat di Carburators Spring, oleh CEO INDIGO (Mr.Putra perkasa) dan wakil CEO (Mr.Panca Hidayat)....
untuk Gusti Nareswara, Raymon, Freddy Brambo harap PM alamat anda untuk dikirimkan hadiahnya...
terima kasih