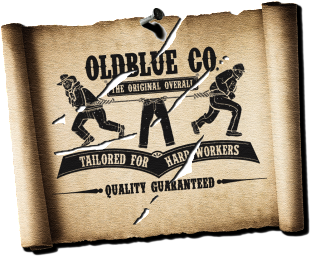 >> http://oldblueco.net/ <<
Founded in the early of 2010, Oldblue Co. is mostly inspired by the vintHage American work wear. Mainly from the era of the late 1800's to the 1950's. Garments which were worn by the gold miners, cowboys, factory workers, to the bikers. It was the era when garments, specifically work wear, were at it best period. From the fabrics, constructions, details, and the machinery behind them. Classic - repro is our main idea and concept.

As one of repro-theory disciples, we think a pair of a good repro jeans is not only based on its details and its fabrics (how it made on the old style shuttle loom), but also on how the jeans are made and sewn. The machinery behind a good pair of jeans is a critical aspect for us.We always try to use some good-old-vintage machinery which are more labor intensive and only able to produce in a limited amount of output, for the sake of our idealism.

As Inspired by the working class and every blue collar workers throughout the days, Oldblue Co. tries to bring back the essence of jeans which is a clothing to be worn outside and an everyday wear. Like back in the days when jeans and other clothing was just a tool that people use to build their nation. We offer a pair of jeans in the simplest and the most basic possible way. No gimmick, no washes, no excessive marketing, no expensive packaging. Only a pair of well constructed jeans with a decent fabric and ready to be worn everyday.

Every pairs of Oldblue Co. jeans are proudly cut and sewn by the hand of talented and hard working Indonesian workers. We only brought the best fabrics and put our heart on every stitch. As we always try to source the best quality material from every corner of the world.

We are the first Indonesian denim brand who produce a more than 20 ounces-heavy-weight denim beast. One of our main background is that we want to prove that our country has enough resources (in term of machinery and working talent) to produce a pair of heavy weight jeans. We're also the first who do a collaboration with a local batik artisan. We tried to combine a synthetic indigo made denim fabric with a natural indigo solvent, which all the process was done by hand in a very traditional way. As a result, we created a very distinctive and unique shade of overdyed-denim.

We're currently partnering with the Standard Denim Supply Co. as our sole retailer in Jakarta. We're proudly the first local denim brand that they ever bring.

Oldblue Co., tailored for hard workers.
~~~
Oldblue Breaking News
~~~
Some New Fabric Line Ups

~~

the italian selvedge

the khaki selvedge

the brown duck selvedge
The Pocket Tee and The Logo V2 Tee are now available at our webstore!

vv

http://oldblueco.net/index.php?act=category&cid=91
Work Jacket Type I - 16 Oz Black Kuroki

~~

http://oldblueco.net/index.php?act=detail&id=143
SAMPLE SALE!!

viewtopic.php?f=11&t=9501
First Preview of Oldblue '13 Lookbook & a Piece of Interview with Denim Hunters

~~

http://denimhunters.com/brand/oldblue
Work Shirt Type III - Sky Blue Chambray

~~

http://oldblueco.net/index.php?act=detail&id=142
7.5" Cut - 12.5 Oz Broken Twill Cone

~~

~~

only available through our web store!

http://oldblueco.net/index.php?act=detail&id=141
OUR WORK BELT COLLECTION IS NOW UP ONLINE!

http://oldblueco.net/index.php?act=category&cid=91
WE'RE AVAILABLE AT THE SDS CO.

Standard Denim Supply Co.


Plaza Senayan Level 2 Unit 238A-240A
Jl Asia Afrika No 8, Jakarta, Indonesia 10270
Phone : 021-5725670
Email : info@standarddenim.com
Twitter : @StandardDenim
~~~
Oldblue Associate
~~~
~~~
Oldblue Headquarter
~~~
Jl. K.H Syafii Hadzami No 88b, 3rd floor
Gandaria Jaksel 12240
(across Gandaria City's South Lobby)Mon - Fri : 12.00 PM - 08.00 PM
Sat : 02.00 PM - 09.00 PM
Sun : Off
*outside of those hours, please do make an appointment with us first
~~~
Oldblue Social
~~~